<![CDATA[
Road to California 2014 started out with a parade. Led by members of the Colony High School Drum Corps, followed by dignitaries from the show's host city, Ontario, the entourage marched in to the vendor hall, and stopped near the Quilted with Honor Exhibit, a fitting backdrop for the veteran presentation that followed.
All quilts in the Quilted in Honor Exhibit were made with patriotic fabrics designed by IslandBatik.
These quilts made such a huge impression that Road wanted to extend their versatility by offering a new challenge using these fabrics: Step Out of the Box.
The Step Out of the Box Challenge requires all submitted quilts to be a modern aesthetic design that incorporates at least 50% Island Batik Quilted in Honor fabrics. Quilters are also encouraged, but not required, to use additional materials from other Quilted in Honor sponsors such as Aurifill thread, Pellon batting, OESD embroidery designs, or patterns from Quilted in Honor designers.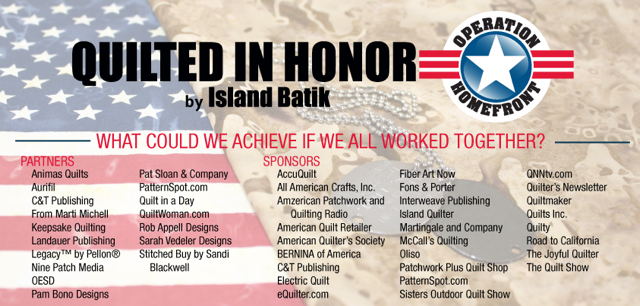 Due by October 1, 2014, quilters can submit more than one entry. After the show, all quilts for this exhibit will be donated to Operation Homefront.  You can find additional entry rules on our web site.
A fun and unique way to bring together modern quilt design, patriotism and our 20th Anniversary.
]]>