We are so excited to see all the quilts entered into Road@Home Quilt Contest. This guide will take you step by step on how to enter your quilts into the show. The due date for entries is November 23rd. If you are interested in taking classes for Road@Home make sure to follow our Registration Guide.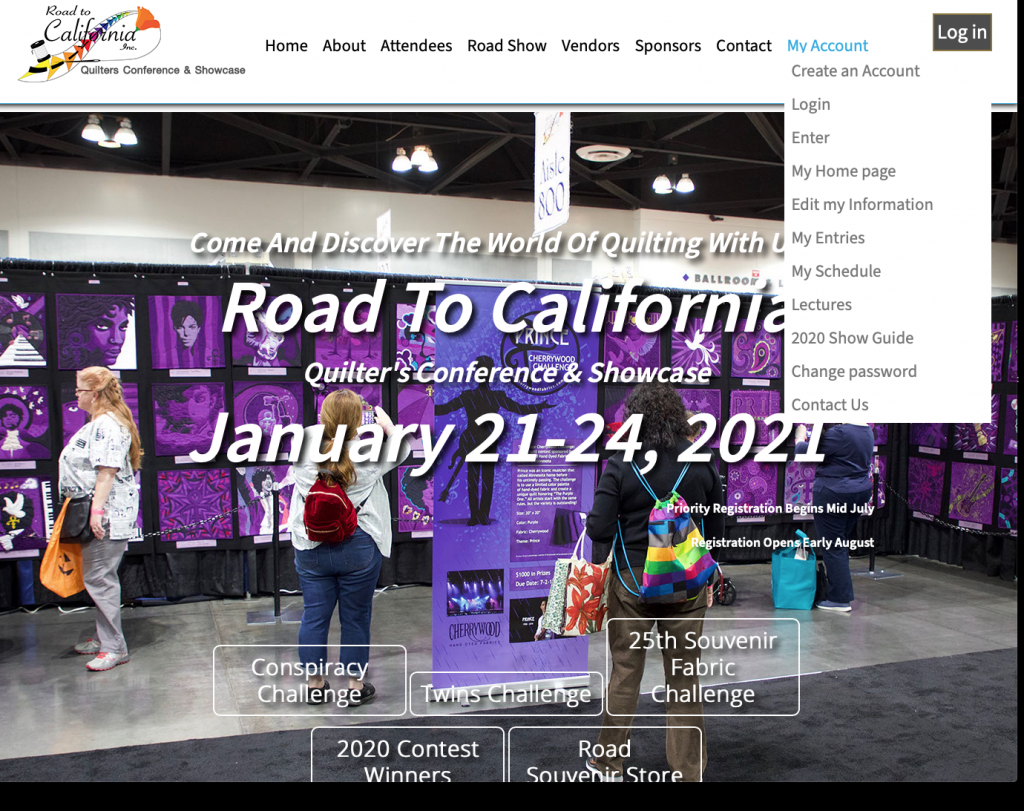 To enter quilts into Road@Home you need to be logged into an account. You can go to the My Account tab and click Create an Account if this is your first time entering a quilt. (We'd like to say welcome to the family!) For our returners you can use Login to get back into your account (We are happy to have you back and can't wait to see what you enter!).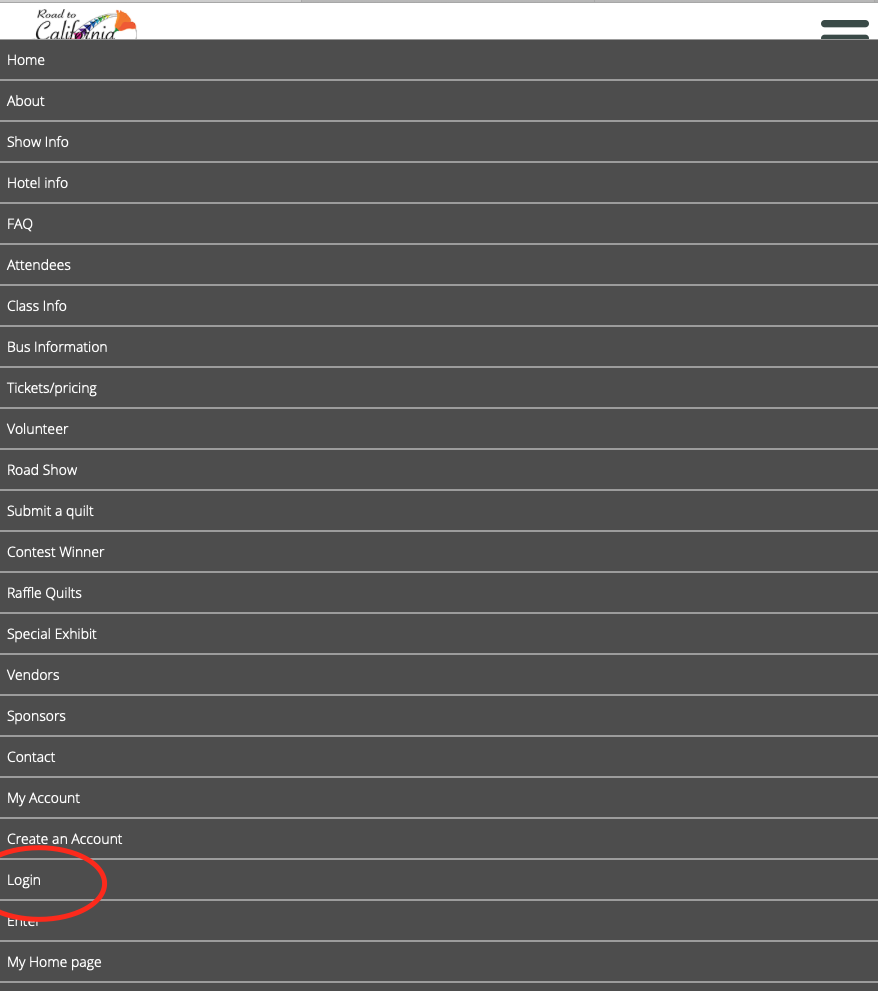 Now on your phone/tablet you are going to see it with Three Bars in the upper right and it will give you a long drop down menu. All of the sections used by the Quilt Contest will be closer to the bottom of this list.
How to Set Your Conference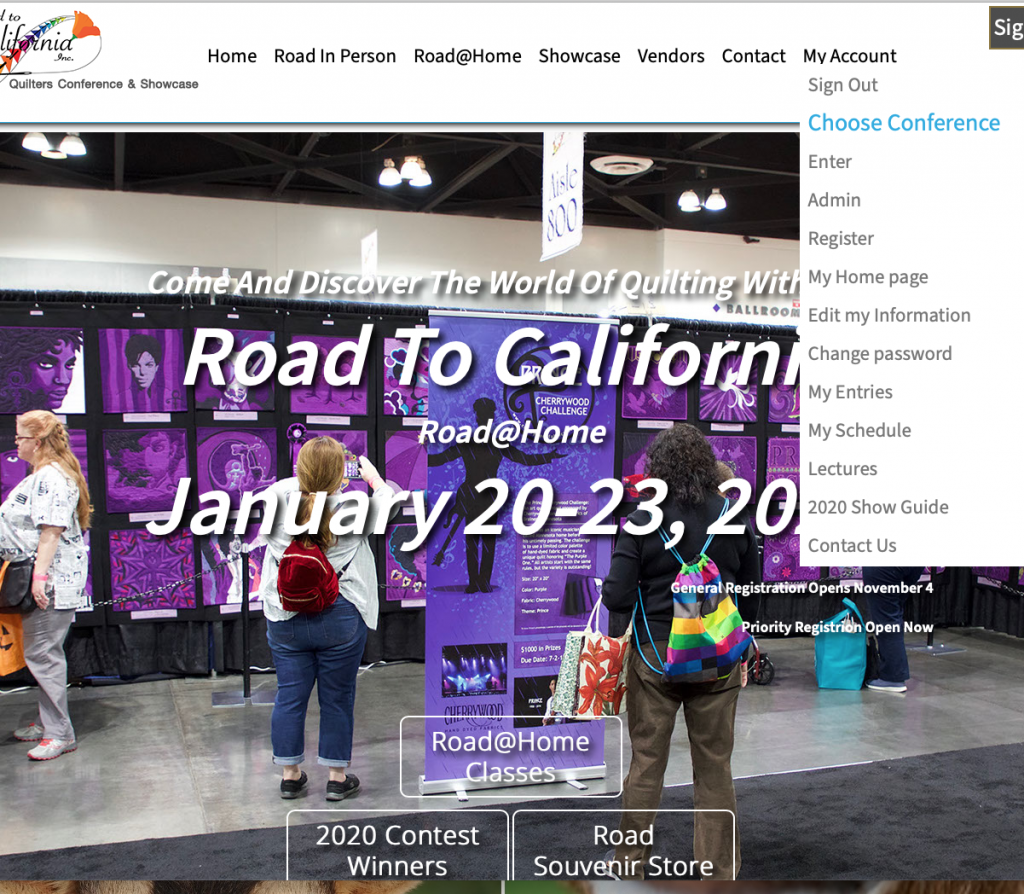 Once you have logged into your account you are going to want to check that you are in the correct Conference. It is important to make sure your active Conference says Road@Home. You won't be able to enter a quilt being in the other conference.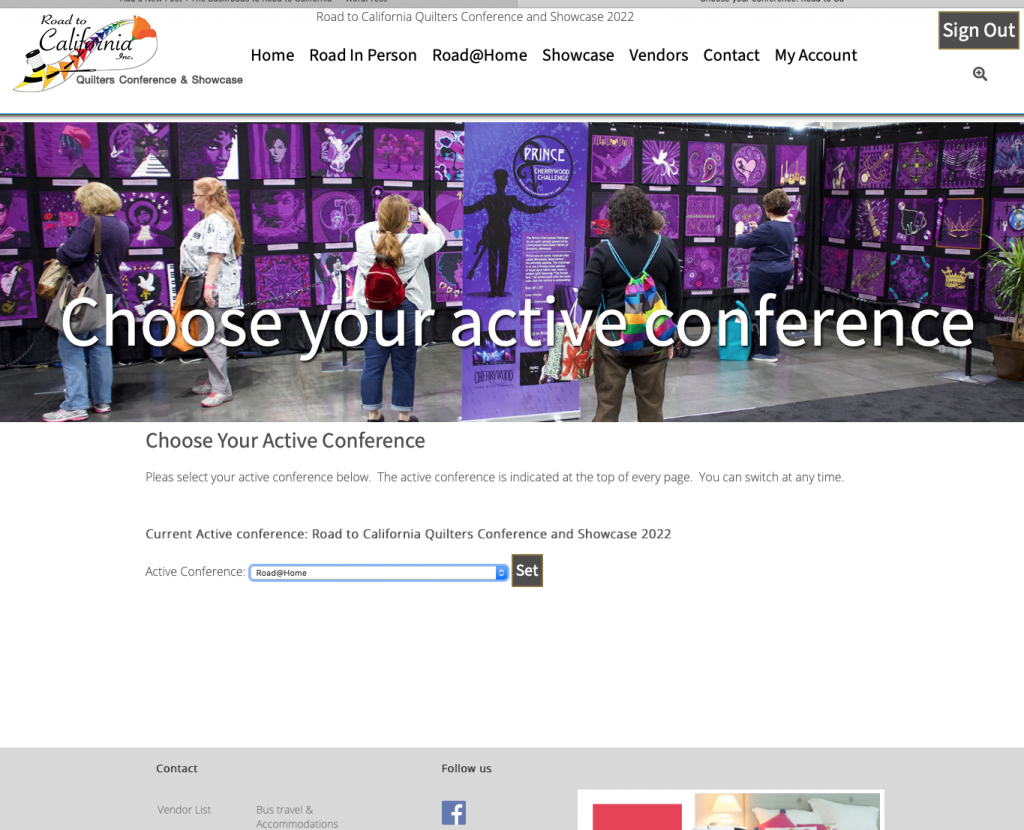 How to submit Your Entry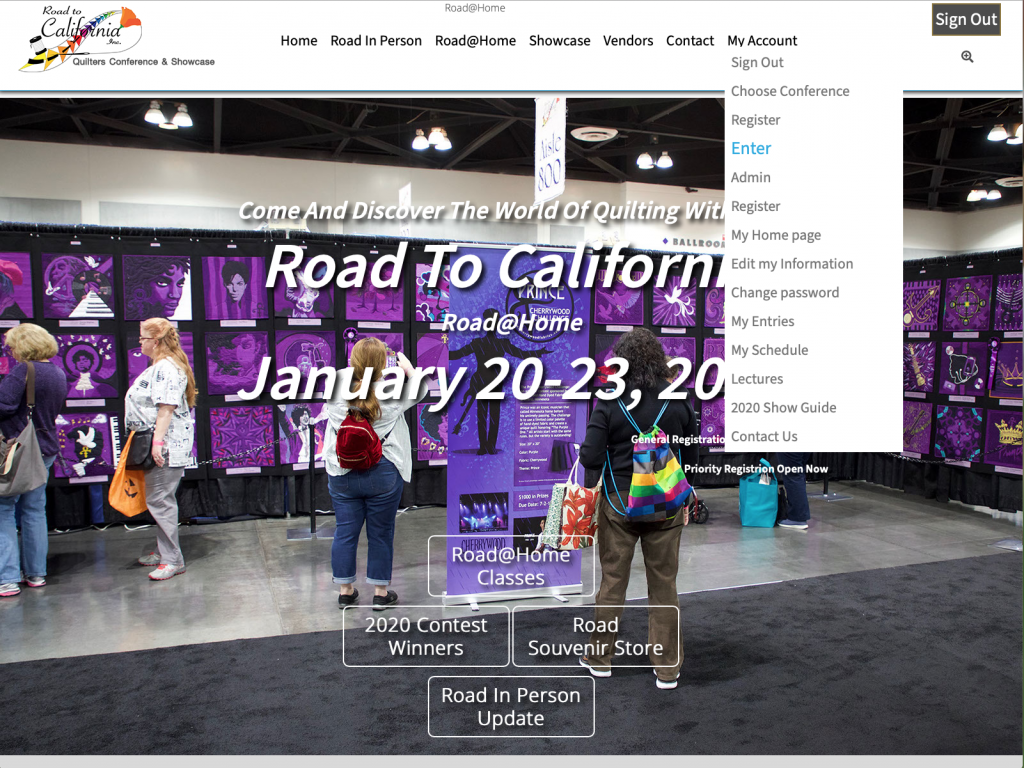 To start with submitting your quilt you will want to hover over My Account. Under My Account You will find Enter, after clicking Enter you will be taken to the quilt entry section. Each competitor can submit three entries and you will submit each entry one at a time.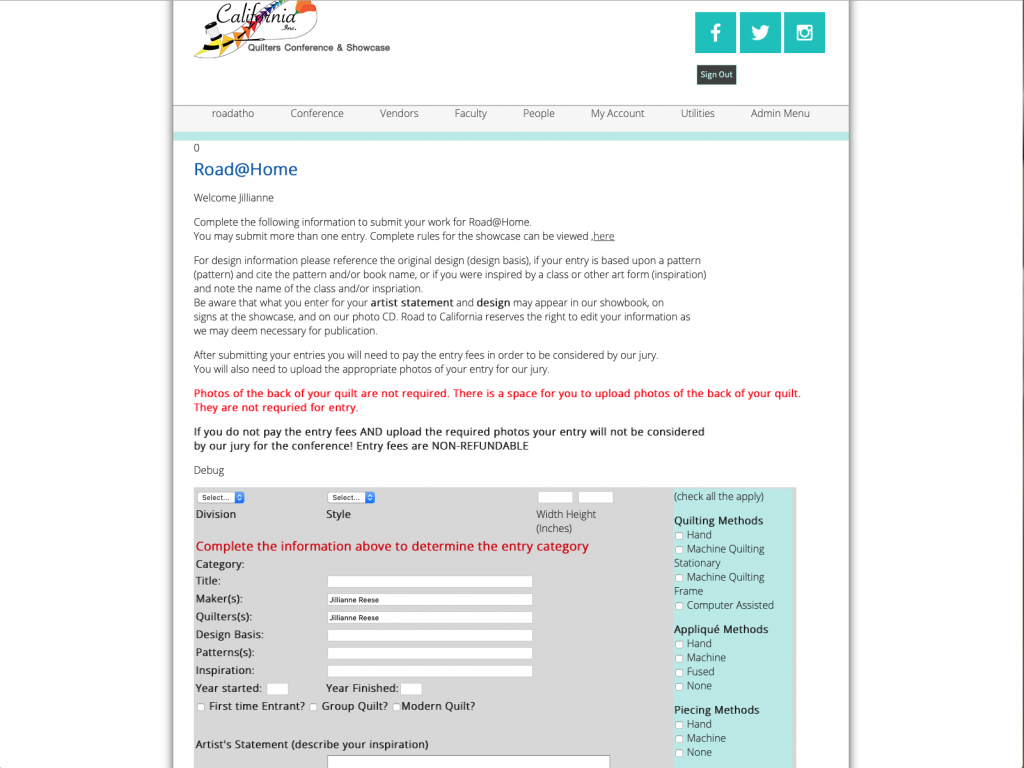 This is where you will start entering in your quilt information.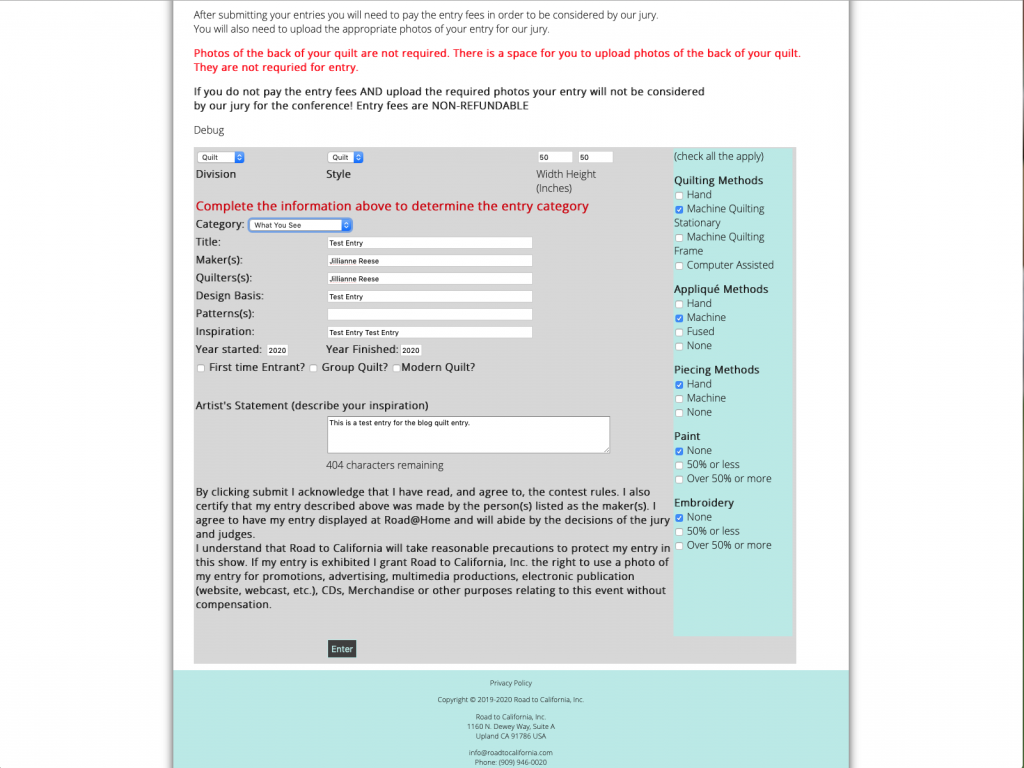 For example we created this Test Entry to show what you need to enter to complete your entry. Here are some key points for quilt entries:
The Division and Style will both be entered as Quilt. You must fill out this section.
The Width and Height of your quilt does not matter for any category, but you must include it for the category to become available.
You have three categories to choose from. You can find out more about those categories on the Contest Rules.
The year does not matter for Road@Home so please enter in 2020 for both year started and year ended.
Make sure to double check that you have entered in everything in correctly before submitting.
Submitting Photos and Payment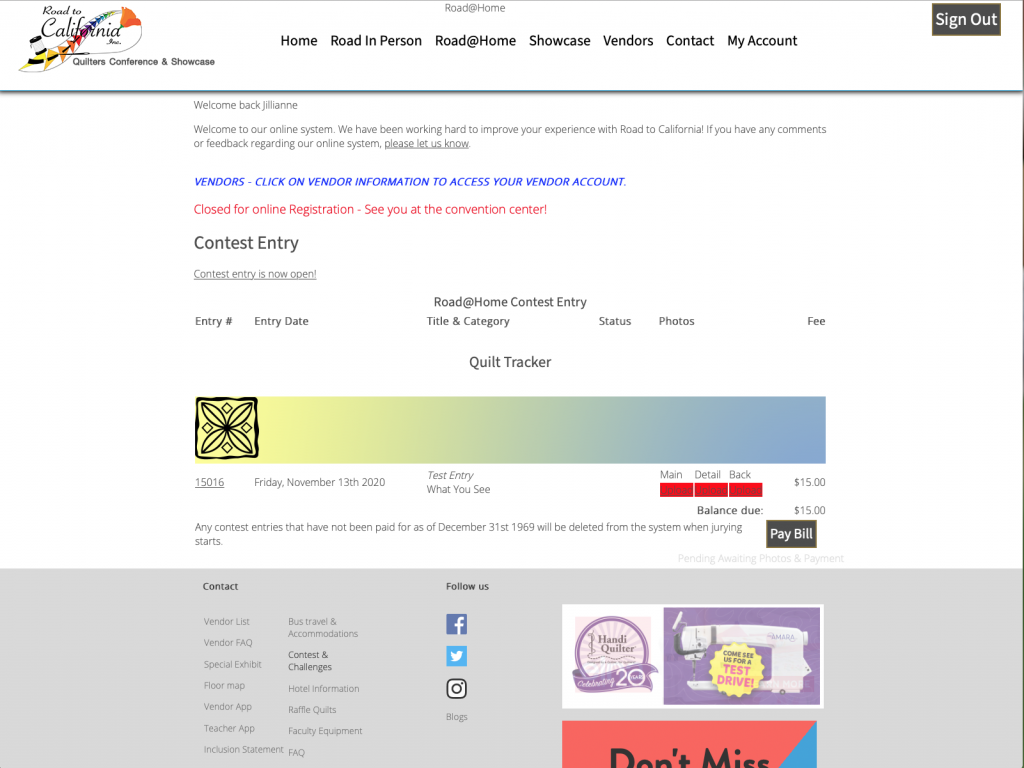 After finishing your quilt entry you will automatically be taken to you My Home Page. Which is your main page for your pre-jury information.
If you click the entry numbers next to the entry you can edit your information. before we close entries on November 23rd.
By clicking upload under the Main, Detail, and Back you will be able to add your photos.
Clicking Pay Bill will take you to your payment section for Road@Home.
Once you have added photos and payment you will actually see another block be added to your Quilt Tracker.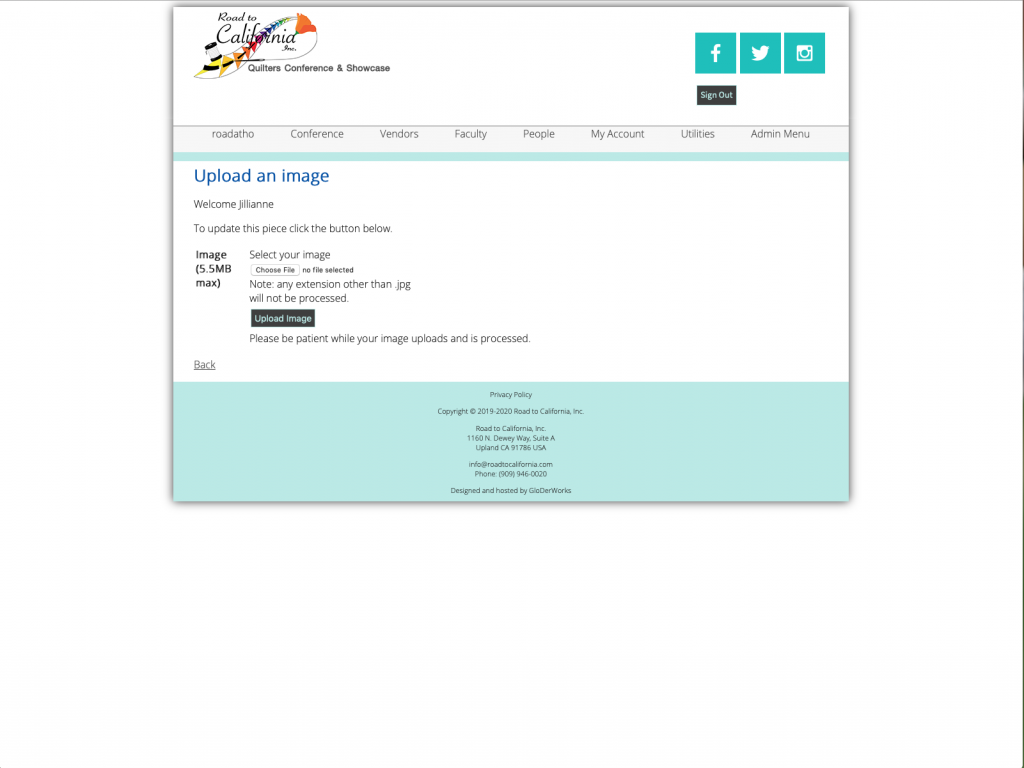 This is the upload screen for photos which you will be able to add the photos of your quilt. These photos will be the photos used for Road@Home Quilt Contest so make sure they are the best ones you have!
Your file should end in .jpg to be accepted by our system.
It also needs to be smaller than 5.5MB for the system to save the photo.
It takes time to upload so please wait as the photo is added into the system. You will be taken back to the main page after submitting a photo.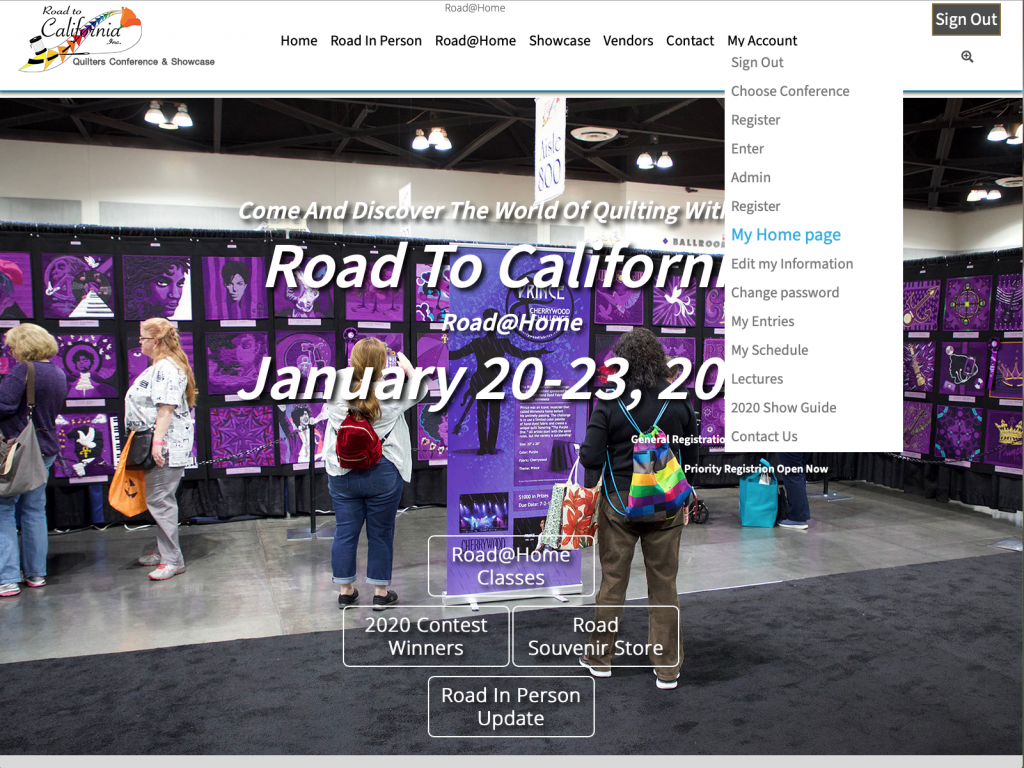 After submitting your first photo the system once completed will take you back to the home page. You will need to go to My Account and then click My Home Page to get back to the Quilt Tracker and the submission section for photos and payment.
You will know your photo has been accepted since the Upload will turn Green.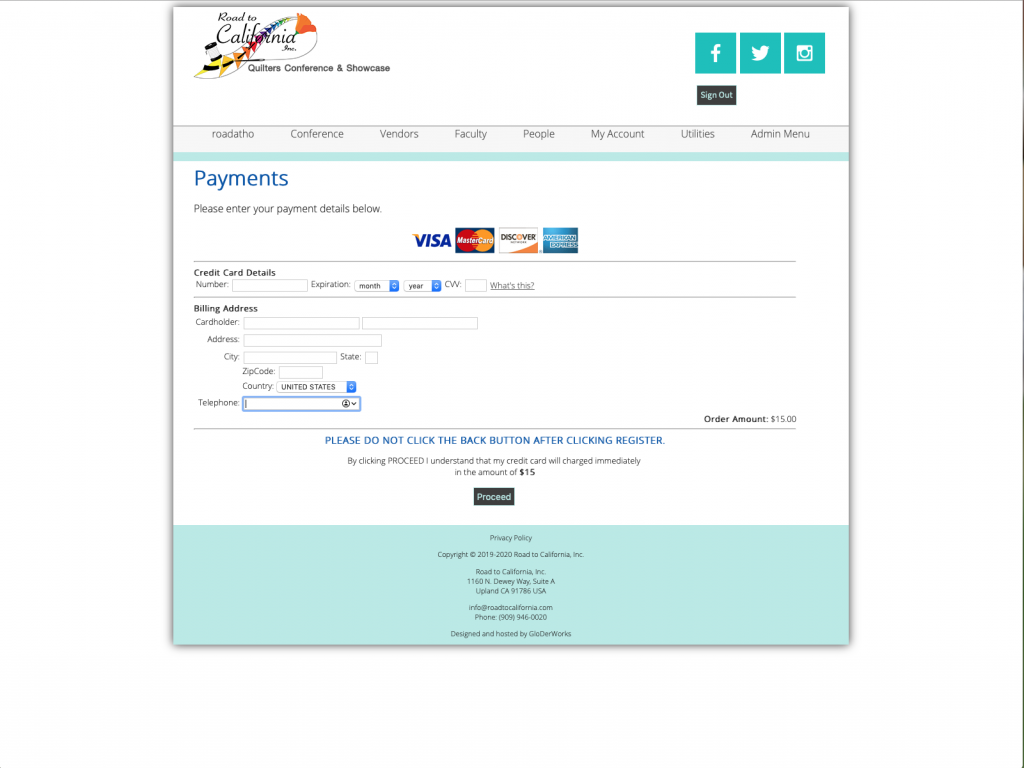 Shown above is the payment page. The page will autofill with the contact information listed on your account. You will need to add in payment information. Please submit payment after you have added all of your quilt entries.
Final Notes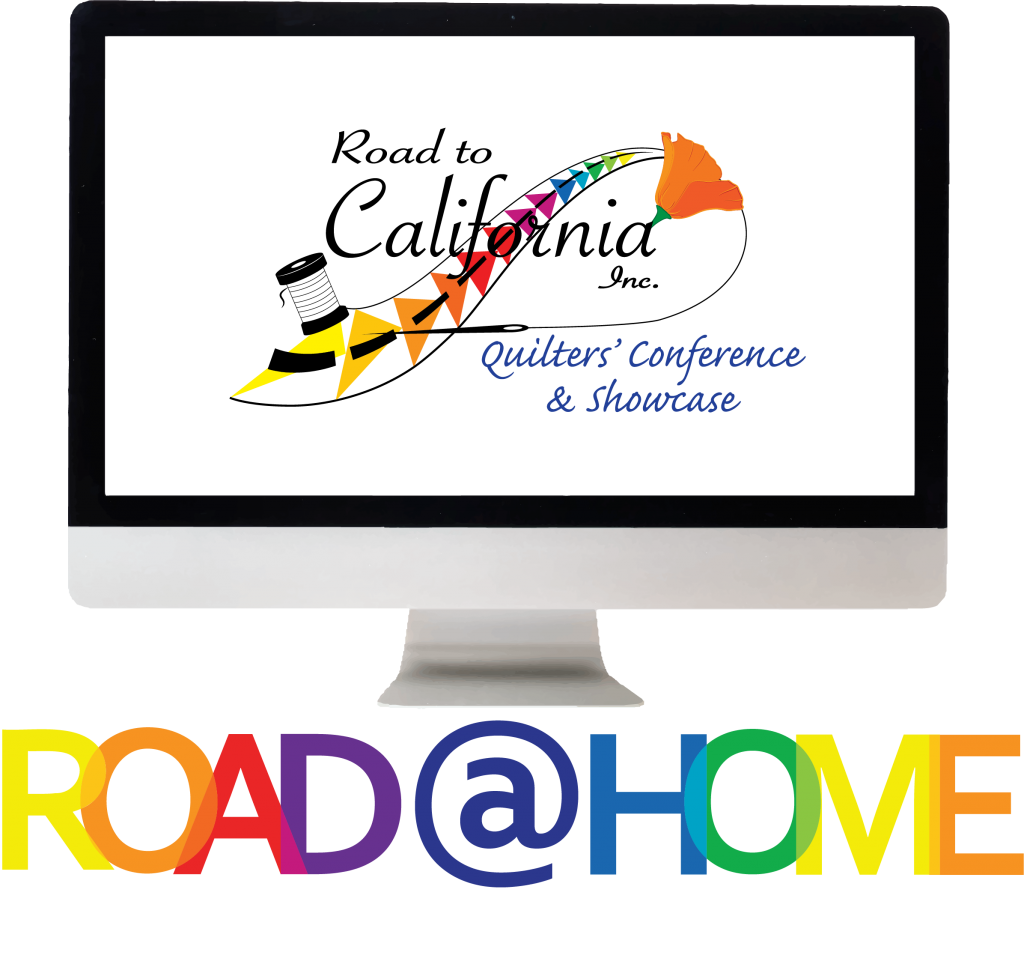 We are so excited for the Road@Home Quilt Contest! We cannot wait to see what quilts are submitted to the show.
Ever wondered how a judging room works? We will actually be showing how an actual judging room works (virtually of course) with Behind the Scenes. This will be when all the quilts are first shown and you can actually watch the Judges pick the winning quilts!
Remember entries must be in by November 23rd.