<![CDATA[Cherrywood Hand Dyed Fabrics continued its tradition of hosting remarkable Special Exhibits with van Gogh. Using a color palette of Cherrywood hand dyed deep blue hues, fabric artists were given the challenge of creating their interpretation of van Gogh's work.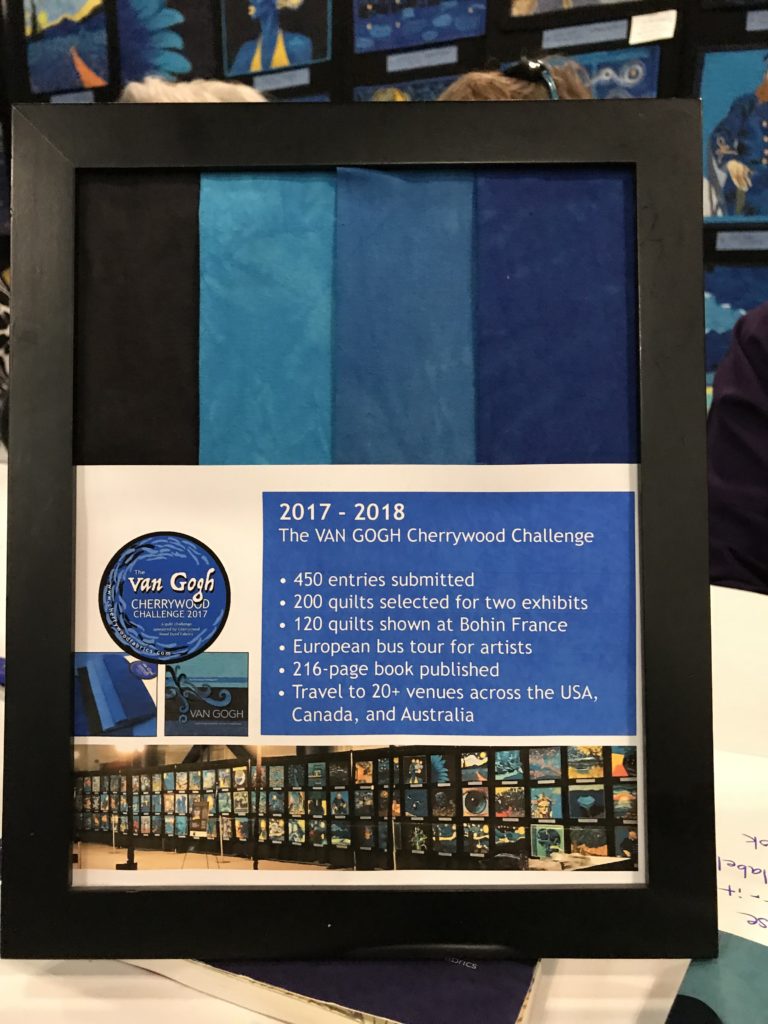 Cherrywood received 465 submissions from four countries—the most ever for their specialty challenges. Because of the overwhelming response, two travelling exhibits were created: French and Dutch—symbolizing both areas of van Gogh's important life work.  The larger French exhibit was shown at Road to California 2018. Some of the artists were able to come to Road 2018, meet guests, and autograph their entries in the Cherrywood van Gogh book, a compilation of all the quilts.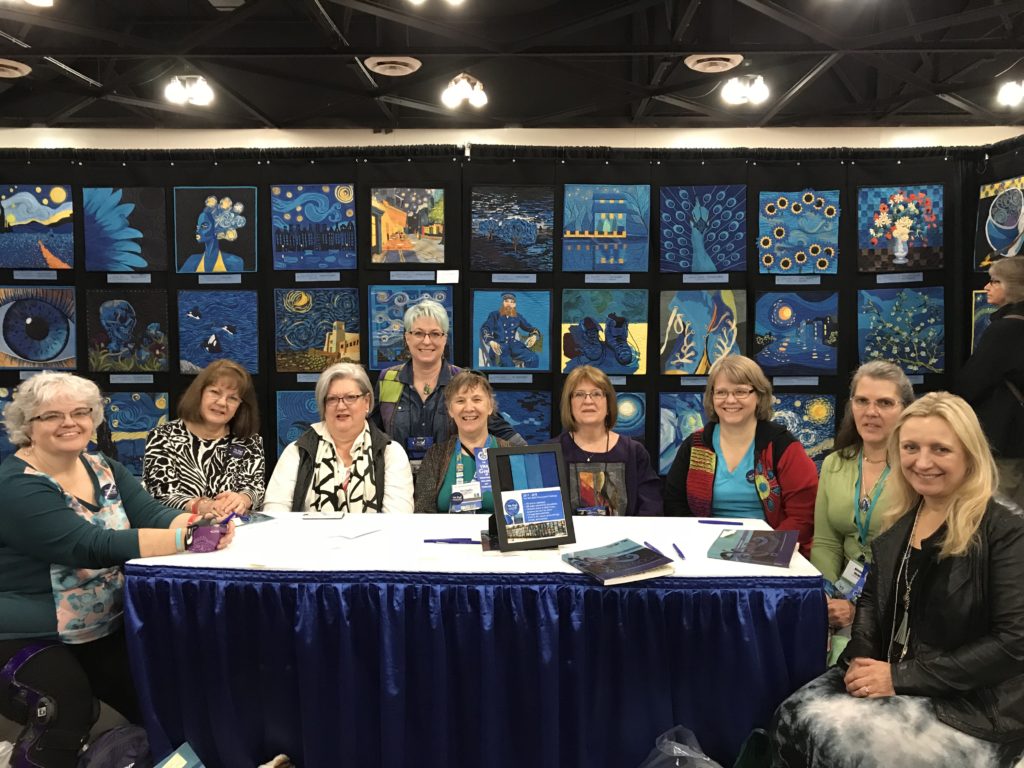 Karen Courtney, a resident of British Columbia, Canada, chose orca whales for her theme. The challenge for her was figuring out how to make and use fabric tubes for her background. It took 4-5 tries to achieve the look she wanted. Karen has been quilting since 1992. This was the first time she ever entered a challenge. It was also the first time she had gone to Road. She thought the show was "really great" and loved the warm weather!!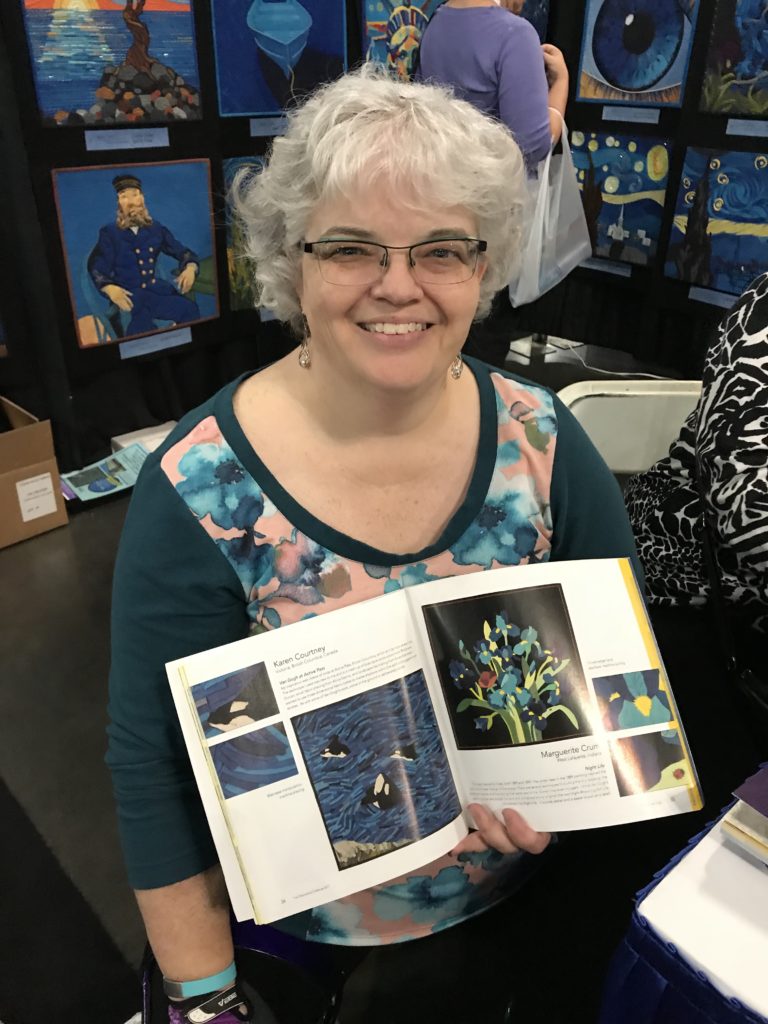 The Cherrywood Choice Award was presented to Lynn Randall for her entry. Lynn said she was "humbled" for receiving the award that followed the 1st, 2nd, and 3rd place winning designs. Lynn shared that she stood on the exact spot where van Gogh painted the picture she used for her inspiration one year before she created her quilt. Lynn is a resident of Dunlap, Iowa—population 1,100. She has been quilting for over 30 years and said that she learns something from every quilt challenge she enters. It was trying to create a brush stroke effect to achieve realism that challenged her the most with this project.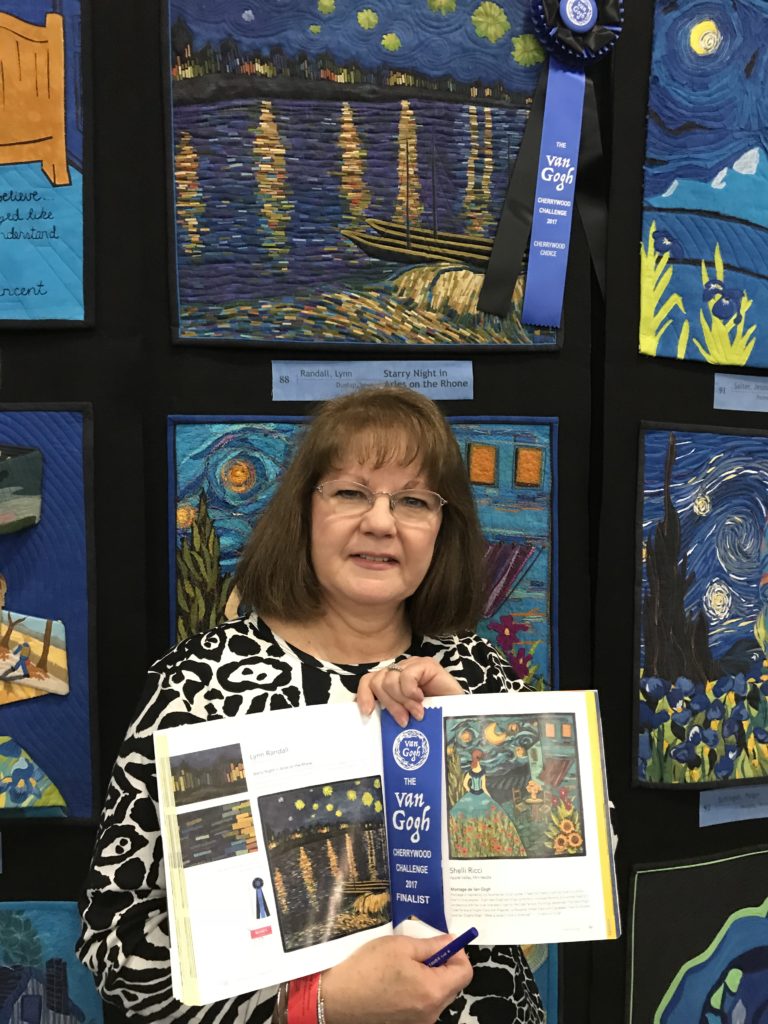 Sally Wright "adores' Cherrywood fabrics and has used them in many of her quilt projects in the past. An Art History major in college, she has long been a fan of van Gogh. The hard part for Sally was coming up with an original idea. After that, it didn't take long for her to sew her quilt.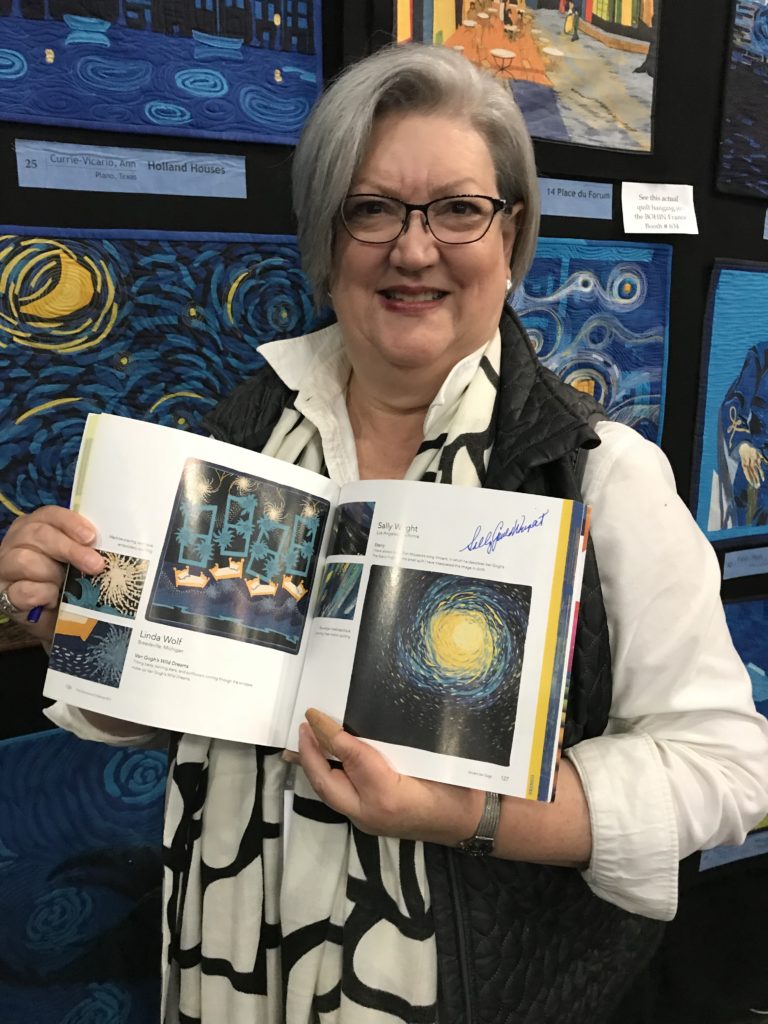 "I love blue and I love van Gogh," said Michelle Baker. "I love to go camping to Lake McDonald and see the borealis over the lake." Previously to this project, Michelle considered herself a modern quilter and was used to working with large pieces of fabric.  She loved the experience of using "teeny tiny" pieces (shreds of fabric actually) to create her brush strokes.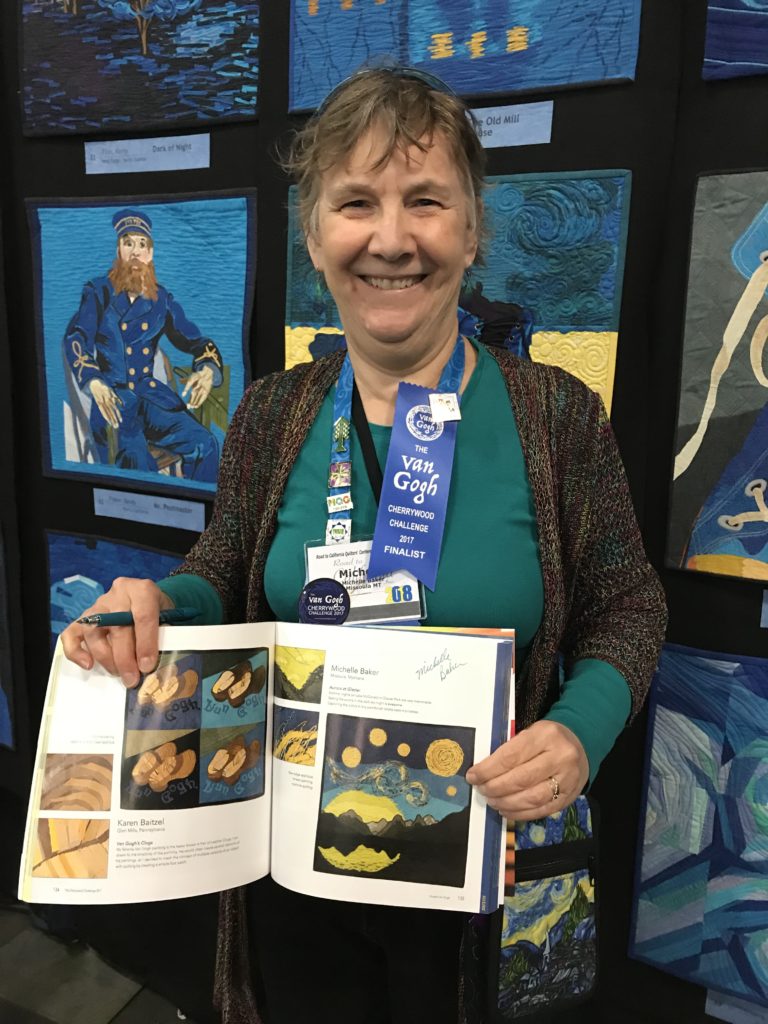 San Diego resident, Kay Laboda, was inspired to enter this challenge after seeing Cherrywood's Lion King exhibit. Growing up in Texas,  Kay has always loved stars. She had four different ideas before she settled on her composition and wasn't satisfied with her choice until she was all done. Her advice to other quilters: "Don't give in. Don't give up."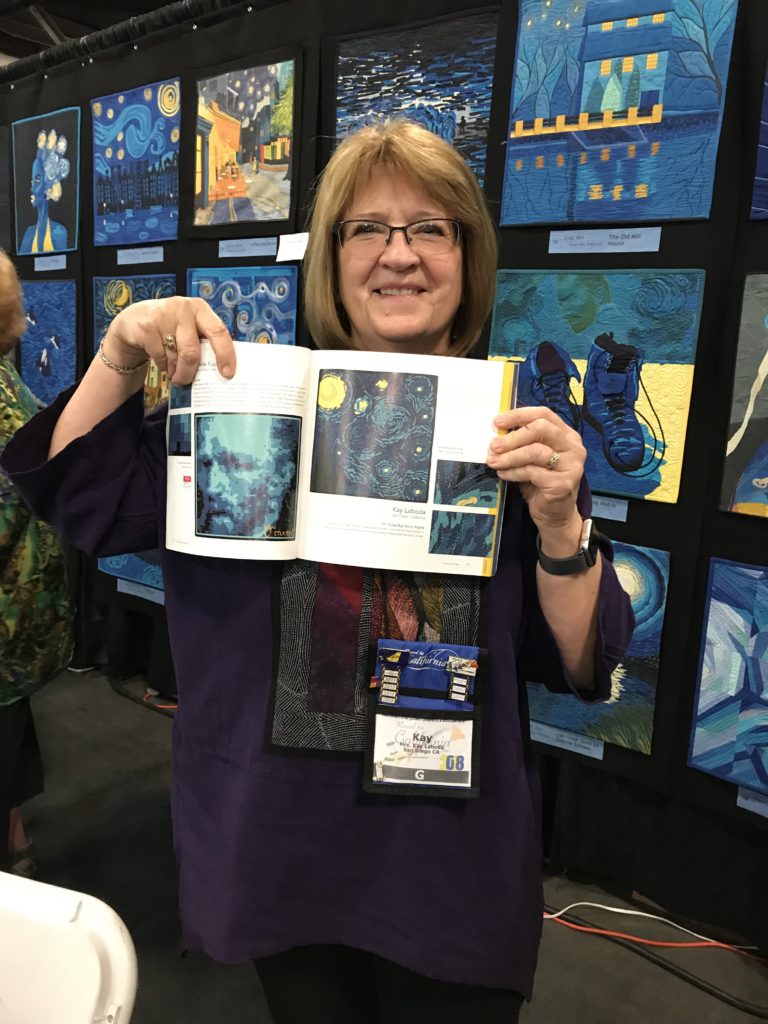 Angie Gohn was used to using bigger fabric pieces and lots more color prior to this piece. Her biggest challenge was the size of the quilt as well as using less color. Drawn to van Gogh's boots and shoes, she decided to modernize them with hi-tops.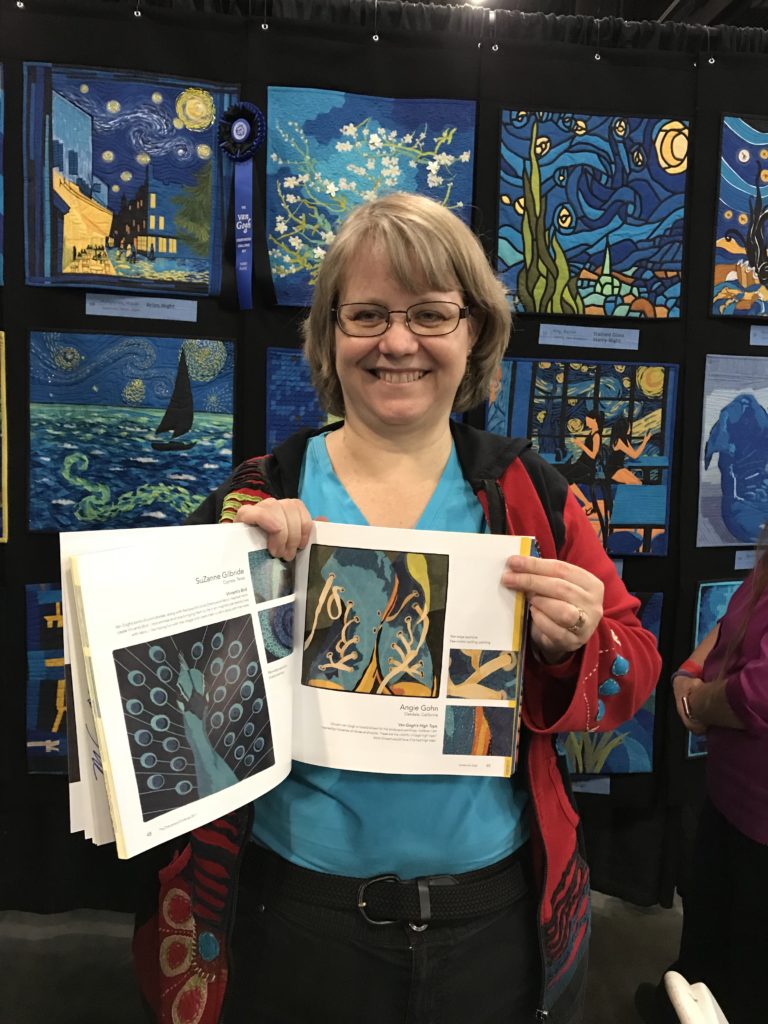 "Live, Love, Breathe Quilts," says Margaret Vachon. Familiar with Cherrywood challenges (she saw Wicked and participated in Lion King), little did Margaret know that a picture she took in 2013 at the Centre Pompidou Museum of Modern Art in Paris would  be used four years later for another Cherrywood challenge. Margaret said she lets "Cherrywood fabric speak to me." She started sewing not really knowing what she was going to do and before she knew it, her piece was created and finished in just 2-1/2 months.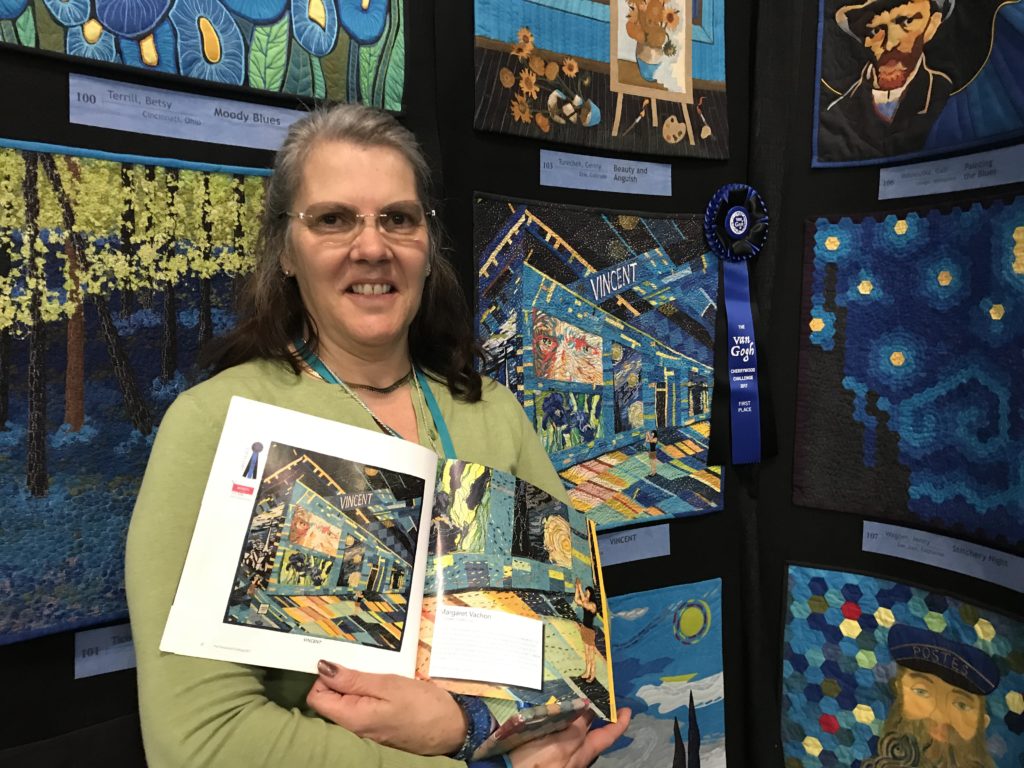 Knowing that she loved art and art galleries, a friend encouraged Diane Winder, a quilter for 10 years, to enter this challenge.  When it was all said and done, Diane wished she would have been "braver" in her design and "experimented" more. Road thinks Diane and all the other fiber artists who entered this challenge were very brave to share their talents in this fabulous exhibit.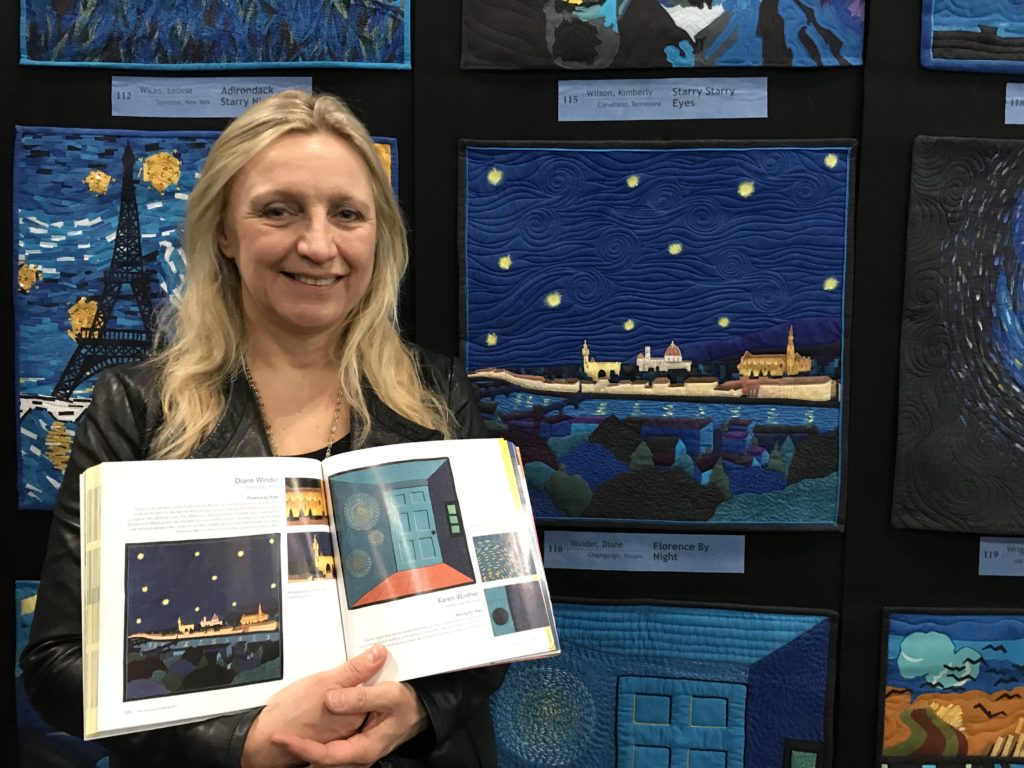 The 2018-2019 Cherrrywood Challenge honors the legendary singer Prince with his favorite color: purple. Entries will be accepted until July 2, 2018. For details on the Prince Challenge, please visit the Cherrywood website.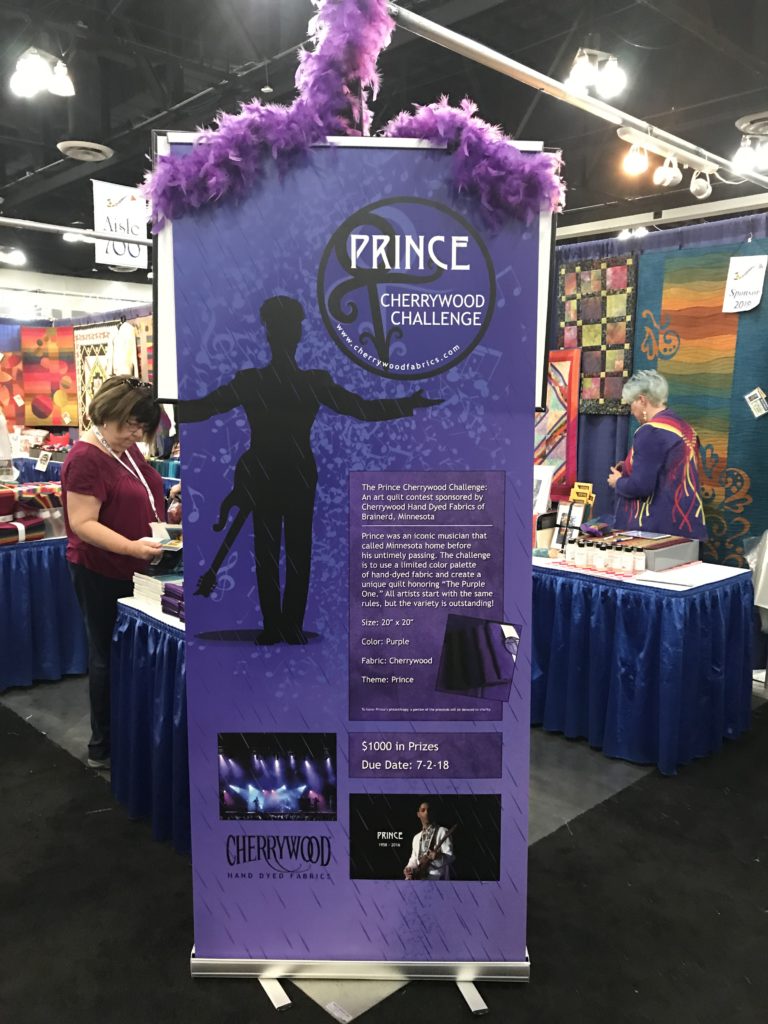 ]]>