Catherine Redford gave a lecture on Walking Foot Quilting on the first day of Road@Home May – Road to California's online Quilt Conference. Classes and Lectures for Road@Home May began Friday, May 21st and continue through Sunday, May 23rd.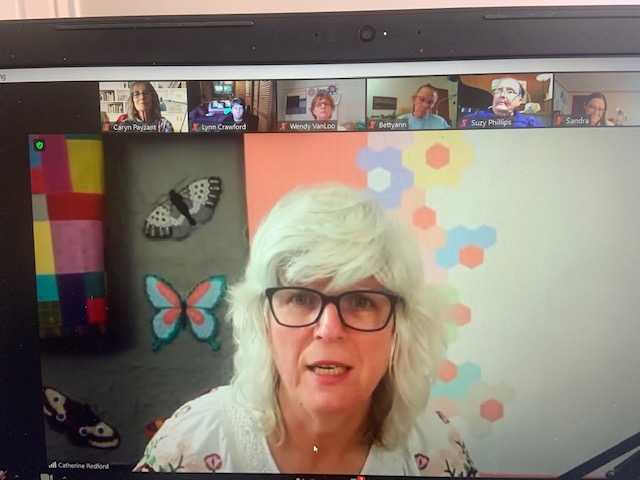 Catherine presented the lecture from her Zoom Studio at her home in Naperville, Illinois. A quilt book author and 2016 Bernina Brand Ambassador, she has been quilting since 1998 and has been teaching since 2003. Catherine noted at the beginning of the lecture, that she has taught this Walking Foot Quilting Lecture to hundreds and thousands of people.
Basting is a Critical Step
Before Catherine demonstrated various walking foot quilting techniques, she explained that preparation is a very important step. She shared that you should be thinking about how you will be quilting your quilt as you are doing your piecing.
Pressing is another important step; you can never press too much said Catherine. You choose which way you want to press your seams in piecing: either to one side or open down the middle. Catherine noted that it doesn't matter which method you use, just press!!!
Build your quilt sandwich preferably on a flat table space using binder clips to hold it down. Press the backing and put it down first, followed by the batting and then the quilt top which has also been well pressed.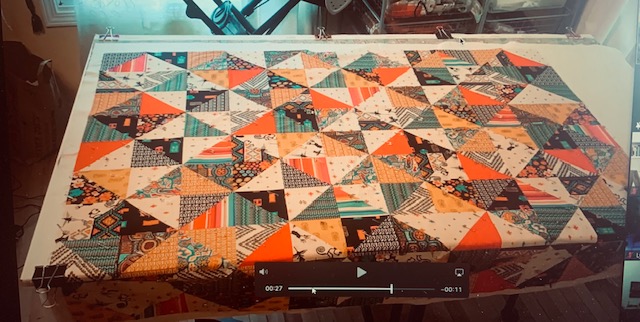 To hold the quilt sandwich together for walking foot quilting, Catherine prefers using Size 1 safety pins which come in two styles: straight and curved. Catherine said you can't use too many pins. She is known to have used 300 pins in a lap quilt!! Catherine added that because you use so many pins, the basting process does take a while. "Go slow" and be intentional in your pinning. Leave them open as you put them down in case you have to move some around. Catherine starts with a straight line in the middle and works her way out in sections. To close the pins, she uses the first quilting tool that she ever bought: Kwik Klip. "It really saves my fingers," remarked Catherine.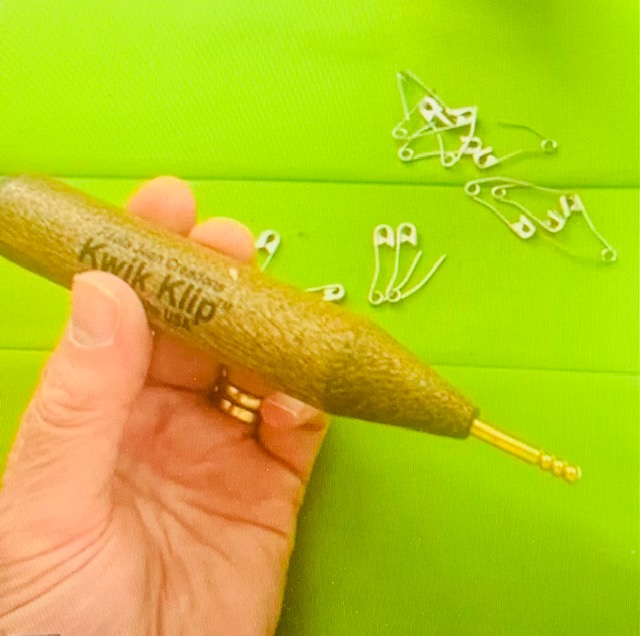 What is a Walking Foot?
A walking foot attaches a second set of feed dogs to your stitching. It works in conjunction with a sewing machine's built-in feed dogs to pull fabric through evenly.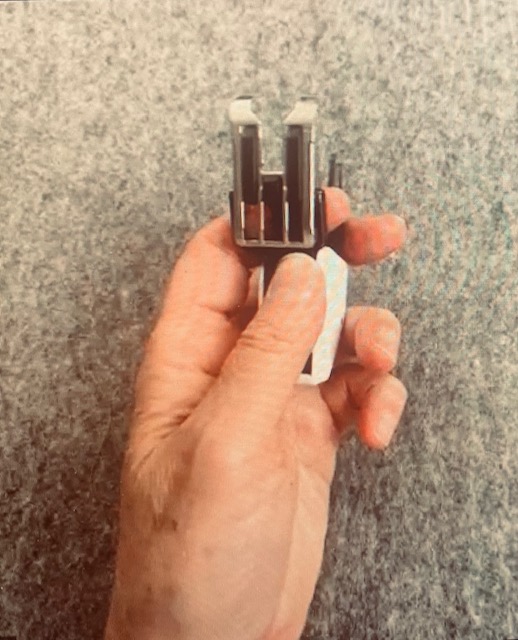 Most walking foots need to be purchased separately from your regular sewing machine attachments. Having a open sole plate is important as it helps you see where your stitching is going.
Walking Foot Quilting Basics
Catherine said there are two purposes to quilting: 1) to attach 3 layers of a quilt together to make it functional and 2) to make a quilt prettier than when you started. Walking foot quilting not only makes the quilt prettier but also adds texture.
Basic tips to remember with all walking foot quilting include:
Use a new, 80 sharp needle (needles should be replaced after 6 hours of sewing)
Use 60 weight thread
Hold on to the thread tails when you start to avoid bird nests
Use the straight stitch default on your machine and keep tension in the middle
Use your hands as a "hoop" to guide your work through. Your hands move with the fabric.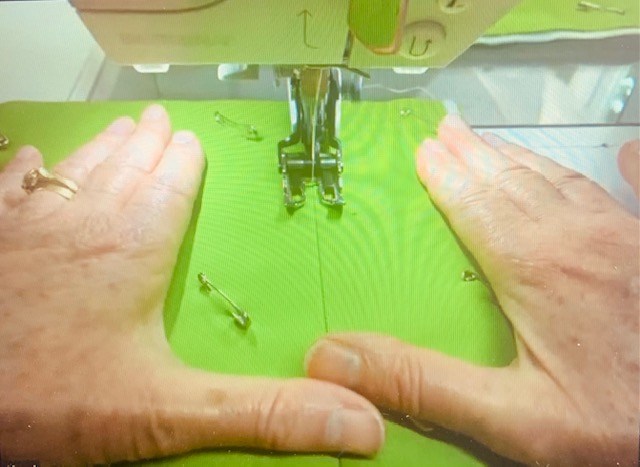 Stop often to either add or remove pins
Work at a speed that is comfortable for you.
The remainder of the lecture time was spent by Catherine demonstrating different walking foot quilting techniques and designs. These techniques will be featured in a future Road to California blog post.
Catherine Redford was a great presenter to start off the first day of Road@Home May lectures. She will be teaching two quilt classes on Sunday, May 23rd: Walking Foot Quilting and English Paper Piecing (which is sold out).  To read more about Catherine Redford and her walking foot quilting, please visit our blog or her website.