<![CDATA[
Laura Heine is going to be super busy at Road to California 2016. She will be teaching a class on Tuesday, 2010R  Paisley Bear Quilt.  Her company, Fiberworks, will have a vendor booth, and Laura will be curating her Collage Quilt Exhibit on the front wall in the main exhibit hall.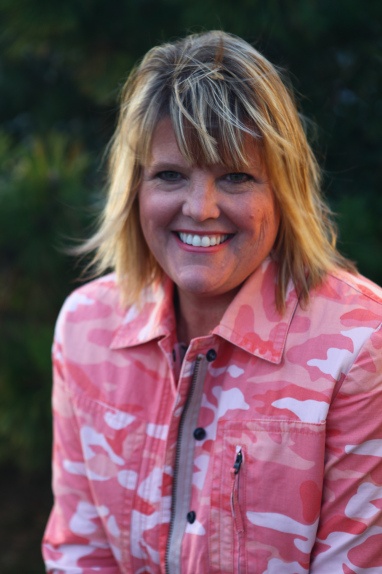 Road 2016 marks the third year in a row Laura Heine will be coming from Billings, Montana to participate in the show. Previously,  she traveled to Road in her pink trailer, "Flaura." But Laura recently retired her 1956 Shasta that she had totally fixed from the inside out. Laura now uses the trailer to go camping a few times in the summer. It is mainly become a popular feature in her quilt shop, Fiberworks.  She put in an overhead door in the shop so she could get Flaura in and out and still protect her from the elements. If you visit Laura's shop in Billings, you will certainly recognize the trailer, complete with Laura's floral collage logo!!
Laura loves coming to Road. She says, "The timing of the show is great as the holidays are over and everyone is ready to get back into the quilting mode!  Customers have loved our products and looked forward to seeing what we have new each year.  It is a long trek for us; it takes three days to get there. But it is well worth the trip when we see our new friends each year."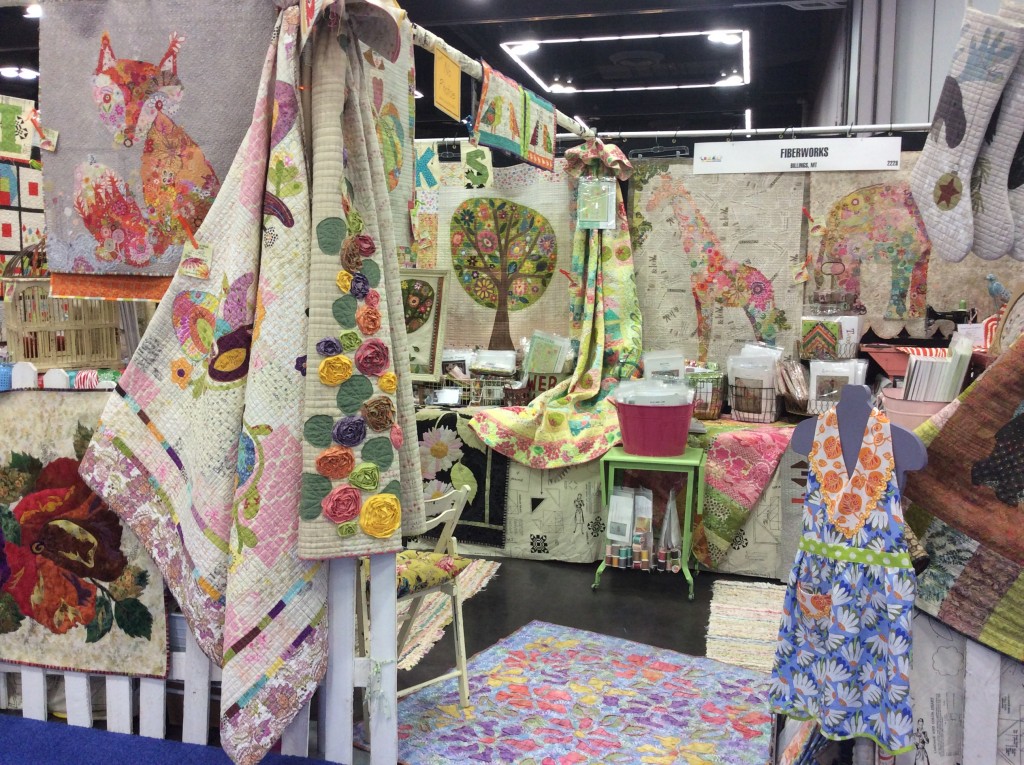 What will guests find new this year in the Fiberworks booth?  "I have new collage quilts of course and I have new pieced and hand applique quilts.   My booth may also have a new look too…"
Laura will also be one of Road's 2016 faculty. She is teaching her Paisley Bear Collage Quilt. When asked what inspired Laura to make this quilt, she replied, "I am from Montana so it was only natural for me to make a collage quilt with a bear!  My bear quilt is the easiest of all my collage quilts to make, and it turns out it is great for the California area too. In the beginning, I designed patterns that I thought would sell and be generally popular to everyone.  This is very hard to do because I have to at least like what I am doing.  Now, I design collage patterns of the things that I love, for example, Pinkerton, the flamingo and Flaura, the vintage trailer.  I am just following my heart and I find that my customers love them as much as I do."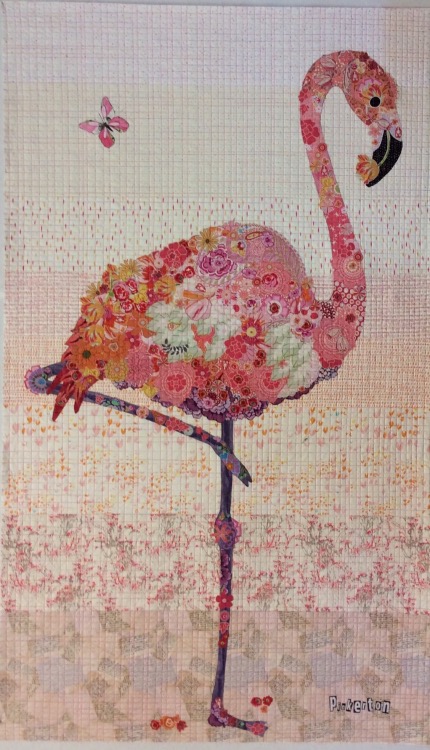 Being able to share her creative talents with her students is something Laura loves to do. Teaching collage is actually quite easy for her. She finds it much easier to show her students how to group colors and focus on value rather than writing instructions on how to do this.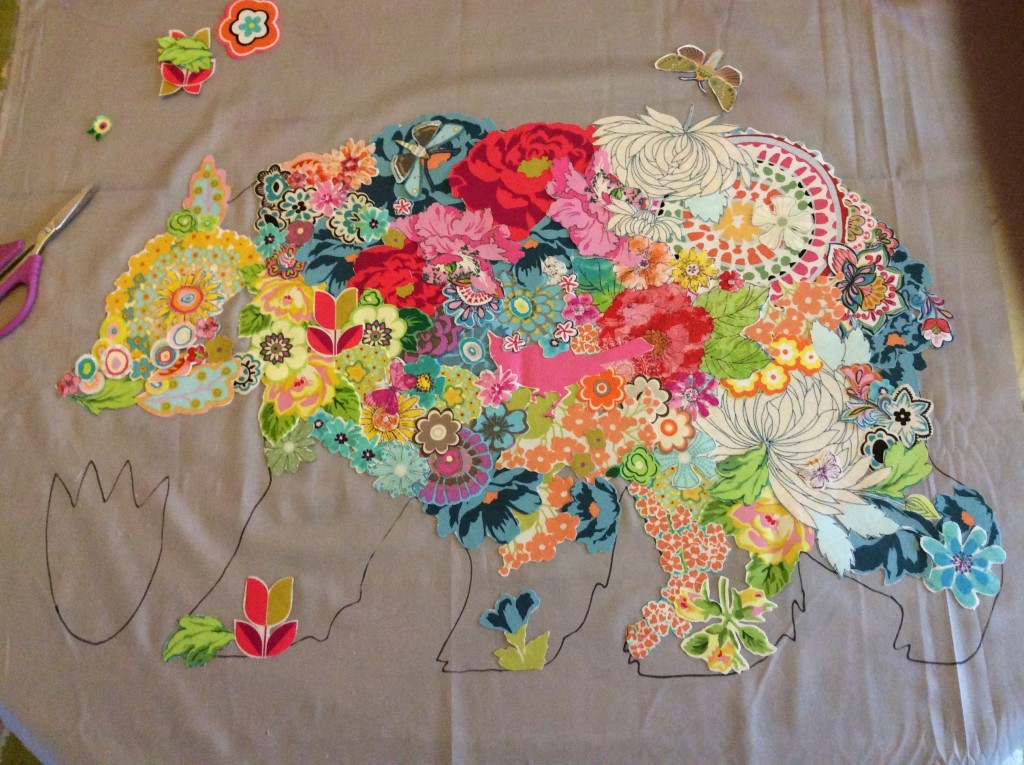 What will students in Laura's class learn? "They will leave knowing more about color and value. They may not even realize they are learning this while they are doing it!  And they will not be afraid of using large scale prints.  This class will open them up to a whole new world on how to look at fabrics." Laura says her students always leave happy and that in itself is very rewarding for her.
New this year will be Laura curating her own exhibit, Collage Quilts. How did she put together this exhibit? "Last year when I was asked to do a special exhibit, I asked all of my students who were in my classes this year if they would like to have their finished quilt in the exhibit.  They were all honored and I went on to accept the first 30 quilts entered.  The show will consist of collage quilts that use my patterns.  Quilters may have purchased one of my kits or they may have come up with their own fabrics.  Guests will see how different a collage quilt can look even if they were all purchased from the same kit!  Finished quilts will be shipped to me in December and I will bring them with me to Road in January."
Laura has a special quilt that she made just for the exhibit and it will be unveiled at the show.  It is a quilt made of all of the leftover motifs that did not get into any of her previous quilts. "Many times," remarked Laura, "you cut more flowers than you actually use and this quilt,
 Wildflower Mix,
 has all of those flowers.  There are over 300 flowers in this quilt! Nothing ever goes to waste!" Be sure to visit Laura in her booth or at her exhibit.]]>