<![CDATA[
Do you have it?
Beginner's Luck
– Noun. The initial good fortune or success commonly supposed to come to a person who has recently taken up a new pursuit.
At Road 2018, Thalia Patricio had it.
She won 3rd Place-Fantasy for her quilt, The Witch.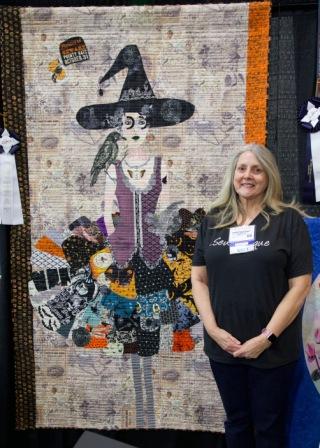 The Henderson, Nevada resident had only been quilting "seriously" for the past four years thanks to classes she has enrolled in at her local quilt shop,
Quiltique
. One class she took,
The Dress,
a
Laura Heine
pattern.
When Thalia saw the pattern, she immediately thought that it would make a perfect witch. So, she contacted Laura and asked if she would mind if she changed up
The Dress
to become
The Witch.
Laura's reply was, "It would be a compliment." So off Thalia went. The fabric used was the key to the Thalia's inspiration. Starting on the collage part first, she would put different fabrics up on her design wall and just let it take on a life of its own. The face of
The Witch
was based on
Tula Pink's fabric line, Nightshade
.
Thalia had been to Road 5 times in the past and felt she could "never make a quilt good enough to be shown there."  After she finished
The Witch,
Thalia began receiving lots of good comments on Instagram, Facebook and in the quilt shop. So many, that Thalia decided that maybe this quilt was the one "worthy" to enter in Road's Quilt Contest. When she received the letter saying that
The Witch
was accepted for judging at Road 2018, Thalia "cried." A couple months later, Thalia was in a casino at the slot machines when she got the email that she had won—and she cried again!! Going to Road 2018 and seeing her quilt on display was "the icing on the cake." Where does this beginner's luck recipient go from here? "I hope I'm not a one-hit wonder," said Thalia. "I will be taking more quilt classes at Quiltique and want to try machine embroidery. I think I have an original design in me." Congratulations Thalia Patricio for your
first win
on your
first try
at entering a quilt in a quilt show. We were glad you chose Road to California.]]>