<![CDATA[2017 Road Teacher, Michele Crawford, knows a lot about color and quilting. A quilt designer since 1989, Michele presented a $5.00 lecture at Road 2016 on The Value of Color  which explored the use of color value to enhance quilt design. [caption id="attachment_4175" align="aligncenter" width="368"]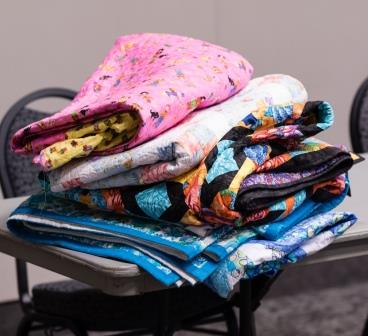 Photo by Brian Roberts Photography[/caption] Michele began her lecture talking about the psychology of colors which often dictates what a person wears, lives with, and puts in their quilts:
Red: action, confidence
Pink: romance, tranquility
Orange: close relative to red; sets apart from surroundings
Yellow: happiness, optimism
Green: soothes, relaxes
Blue: calm, cool, trustworthy
[caption id="attachment_4177" align="aligncenter" width="336"]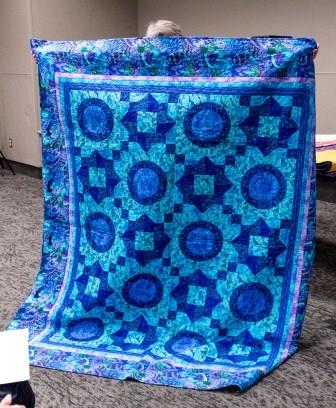 Photo by Brian Roberts Photography[/caption]
Purple: uplifts, spirituality
White: hope, purity
Black: power, authority
Grey: knowledge, wisdom
When creating a quilt, color provides the basic design principles:
Movement,
Repetition,
and
Variety
. Michele gave some added tips for repetition and variety.  She said a
Resting Spot
should always be included in a quilt including a different color or value or border. She also warned about not having the quilt be too busy.  If a quilt is too busy, it's not pleasant to view because the eye is constantly wandering. And because variety is the spice of life, a
zinger color
(something not even in the quilt or border) can "make the quilt" sparkle. The color wheel is divided into 3 categories that are considered the pure colors:
Primary colors
– red, yellow and blue with (*Yellow being the most dominant pure color)
Secondary colors
– orange, green and violet
Tertiary colors
– red/orange, red/violet, yellow/green, yellow/orange, blue/green and blue/violet Complimentary Colors appear on opposite sides of a color wheel – red/green for example. Black is the mixture of all the pure colors. White is the absence of color. The true neutrals are the achromatic colors: black and white plus grey. The rule of thumb to remember when working with pure colors is that
LIGHT ADVANCES ON DARK and DARK ADVANCES ON LIGHT
. [caption id="attachment_4176" align="aligncenter" width="336"]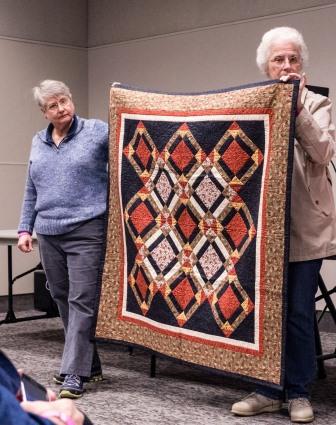 Photo by Brian Roberts Photography[/caption]
Color Value
refers to how light or dark a color is. Michele said that understanding this concept is vital in making
effective scrap quilts
. Quilts will be more interesting not if the colors (or fabrics) do not match, but rather when different colors work together when they are in the same color value. [caption id="attachment_4173" align="aligncenter" width="336"]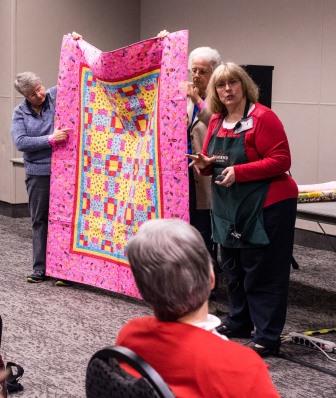 Photo by Brian Roberts Photography[/caption] Every fabric in a certain color can be divided into three main groups: LIGHT, MEDIUM, and DARK. Within these groups, they can be subdivided again into three separate areas of light, medium and dark (i.e. light-light, medium-light and dark-light).
Light
: Fabrics in these colors (white, cream, ecru, etc.) are effective as backgrounds, for contrast and to soften the look of a quilt.
Medium
: Fabrics in these colors (medium blue, red, green, etc.) provide a rich look as a blender or contrast between light and dark fabrics.
Dark
: Fabrics in these colors (black, navy, forest green, etc.) create a strong bold contrast. These are the colors that are going to pull together all the rest of the colors or "pop" in a quilt and are good for borders. [caption id="attachment_4174" align="aligncenter" width="364"]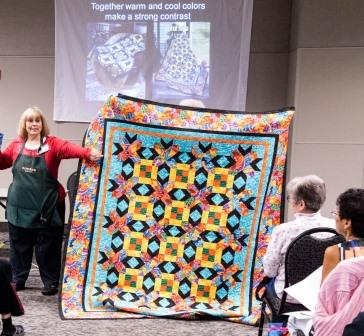 Photo by Brian Roberts Photography[/caption] When deciding on the colors for a quilt, Michele recommended starting with the block design first and pull the colors to the outside of the quilt. Whatever colors are used in the center of a quilt should be the border fabric/color. To learn more about Michele and her quilt designing, please visit her
website
.]]>