<![CDATA[
in·no·va·tive  (
ˈinəˌvādiv/) 
adjective
Featuring new methods; advanced and original.
These four quilt artists were each awarded First Place and $1,000  for their innovative fiber art skills at Road 2017:
Innovative, Large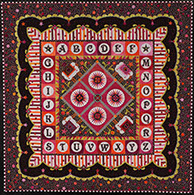 The A-E-I-O Ewes by Janet Stone.
Sponsored by BERNINA of America, Janet says,  "I had to design this quilt after the title came to me first, while lying in bed one night. The color fabrics were all hand dyed by my very talented friend, Gilbert Muniz. It was originally going to be just a wall quilt, but it demanded to be bit larger. This is the 16th quilt in my alphabet quilt series."
Innovative, Wall, Appliqué 
PROUD PEACOCK by Mrs. Antonia Hering
Antonia is a resident of The Netherlands. She came up with her original design because she always wanted to make a quilt with a peacock.  Antonia said, "The challenge was to use very tiny stitches. It had to be a special one, different from all I had seen. Another challenge was the hand-piecing of the tiny triangles in the spirals.The rest of the quilt is inspired by old catalogs from the 1800's showing all kinds of long forgotten crafts." Leo9 Textiles sponsored this winning quilt. 
Innovative, Wall, Other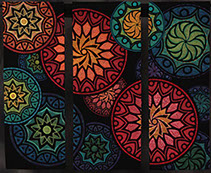 Bailando en la Noche (Dancing in the Night) by Shelley Stokes
Kerry's Kollectibles sponsored this winning quilt. Shelley describes her innovative design that "the colorful medallions evoke the swirling skirts of Mexican folk dancers under an exuberant night sky. Just as music and dance add delight to our lives, hand stitching breathes life into the painted images. The shapes in the medallions were painted on whole cloth black fabric with Shiva Artist's Paintstiks. All surface stitching was done by hand with pearl cotton threads. It appears to be appliqué, but it's not."
  Innovative, Wall, Pieced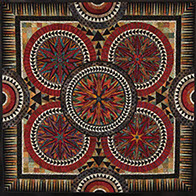 Five Turns of the Wheel by Sandra F. Peterson
This quilt was designed using Sandra's original "fractured wheels" because she was thinking about a design that fills in between circles.  For Sandra, "the idea of playing with colors that move through the circles with an imaginary turn of each wheel was intriguing. Clockwise, follow yellow starting with the lower left corner circle and watch it move through the circles and burst out and consume the center circle." Thank you Primitive Gatherings for sponsoring Sandra's winning entry.
What innovative designs are you working on?
]]>