<![CDATA[
Does your quilt guild have their quilt show outdoors?
That's what the Valley of the Mist Quilt Guild has been doing for 19 years!! Their display quilts are exhibited on rustic buildings throughout Old Town Temecula, California for a two week "Quilt Walk." After, the The Quilt Show culminates with a featured quilter, vendors, and two live quilt auctions.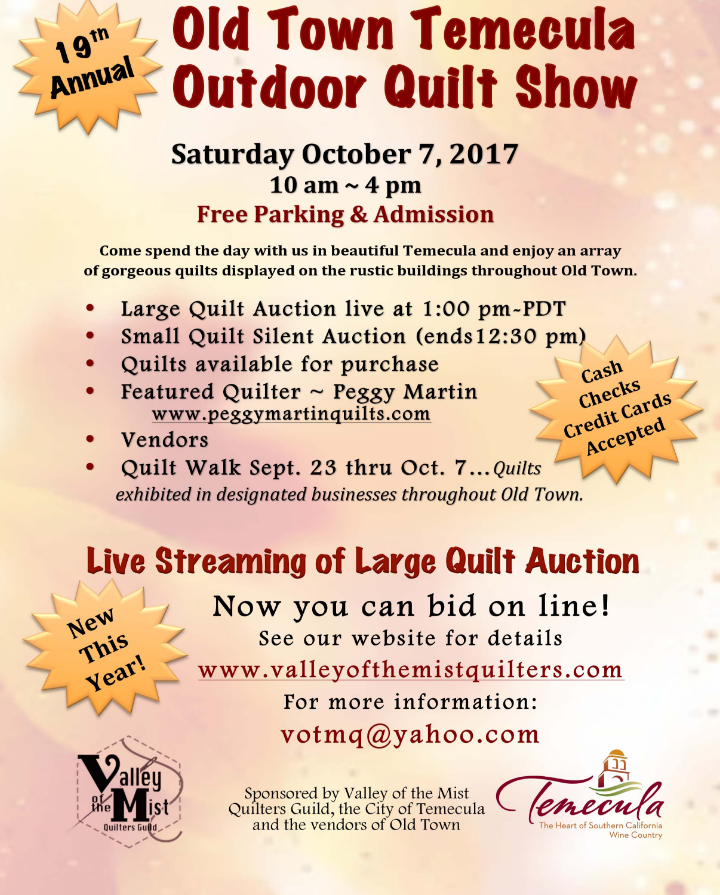 This year's opportunity quilt, "Sweet Treats," which was on display at Road 2017, will also be awarded to a lucky winner at their quilt show.
[caption id="attachment_5163" align="aligncenter" width="412"]
Picture by Brian Roberts Photography[/caption]
Formed in  September,1990, Valley of the Mist Quilt Guild is located in the Temecula Valley and promotes the knowledge and appreciation for all aspects of quilting and fiber arts.  The guild has a strong philanthropy heritage, sewing quilts, pillowcases, Christmas stockings, and baby blankets to donate to their community. This past year, they have also collected donations each month to put together kits that will be donated to veterans at nearby March Air Force Base.
A fun guild activity that they started this year was "The Charming Strip Exchange."  Guild members brought strips they had cut from three different fabrics that followed a particular theme and exchange them with each other.
For more information about their quilt show or the guild, please visit their website.
]]>