<![CDATA[
For the second year in a row, Road to California hosted a Daily Drawing.
Prospective winners filled out an entry form at the North Information Desk prior to the drawing at 3:00 p.m. each day of the conference.
All guests had the opportunity to win one of these great prizes donated by these great companies:
Babylock Rachel donated by Moore's Sewing Center
Bernina Sew Pink Sewing Machine donated by Mel's Sewing Center
Viking Sapphire 930 donated by OC Sewing
LaCresta Premiere Work Station donated by Martelli
Everyone was excited and nervous waiting for the anticipated announcement.
After giving the steel drum several spins, winners were selected and announced by Randy Graves.
And the lucky winners were:
Thursday: Agnes Wilkerson, Idylwild, California
Agnes came to Road by bus with her local guild, The Mountain Quilters. She was on the bus waiting to leave when her friend ran out to tell her she had won. A quilter for 11 years, Agnes thought it was "amazing" that she had won.  "I've come to Road for several years and I love everything here."
Friday: Lynn Grassel, Gillette, Wyoming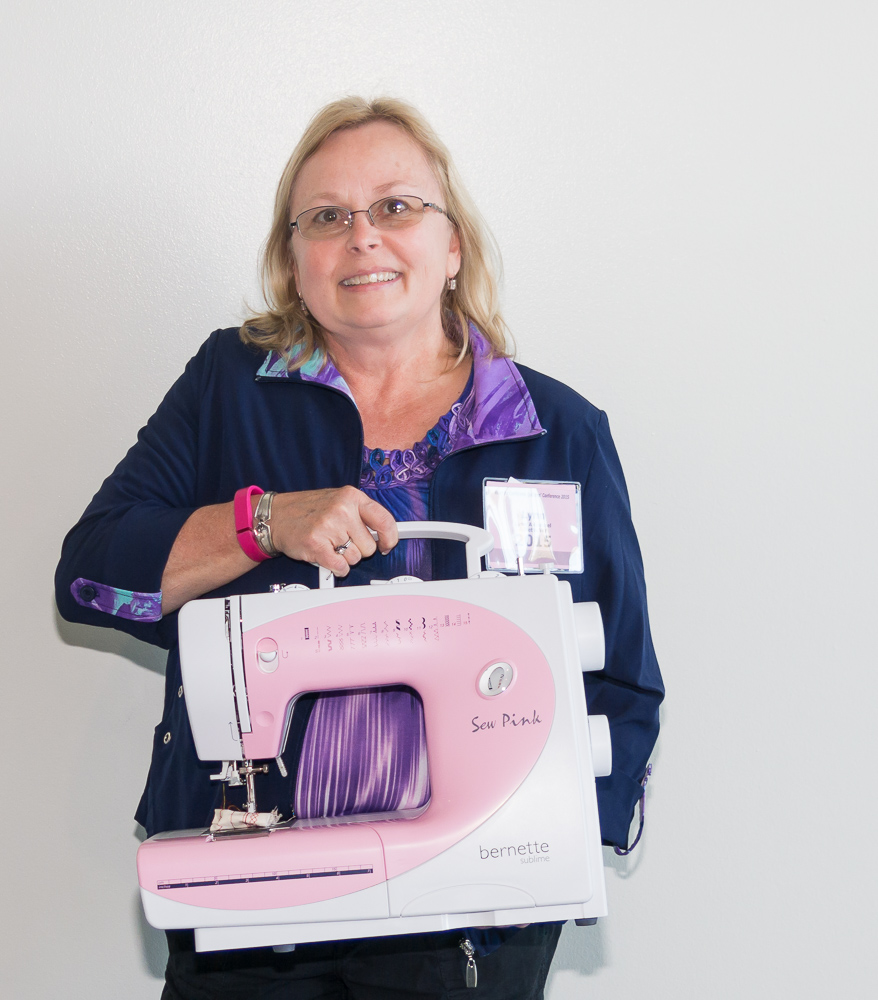 Lynn's favorite color is pink. "I love pink blingy things." So it was fitting that she won a pink Bernina sewing machine. It was Lynn's first visit to Road. She came with six quilt buddies and they were having "a blast" taking classes, staying at the host hotel, and visiting the show. Lynn started quilting in 2001 when her youngest child graduated from high school. Going to Road inspired Lynn to want to become an art quilter.
Saturday: Susan Nowak, Thousand Oaks, California
Susan was inside the Exhibit Hall when she heard her name called. This was Susan's 5th time at Road. She came with friends who met at college at Cal Lutheran and are now all retired. What is she going to do now that she won her beautiful machine? "I plan to do lots and lots of sewing!!"  
Sunday: Kristin McClary, Alta Loma, California
Kristin had attended the show earlier in the week and was just going to stop back by on Sunday "for one more item." Little did she know that a last minute drop of her entry would win her a new electric work station valued at $3,250!!!
All of our winners remarked that they "never win anything." Just goes to show that it pays to take a chance and enter the daily drawing. Because one day, the winner's name being called out just might be yours!!
]]>
Tags: Babylock, Bernina, Daily Drawing, Martelli Enterprises, Mel's Sewing Center, Moore's Sewing Center, OC Sewing, Viking, Work Station