<![CDATA[
Award winning artist, Sheila Frampton Cooper, has come a long way in her six short years as a quilter.
Prior to quilting, Sheila had an extensive art background in oil, acrylic and watercolor painting, jewelry-making, and architectural photography. Her first foray in to quilting was in 2009 when she made quilts for the Project Linus. Sheila began working on her first art quilt in January of 2010 and completed that project in October of the same year. Titled, "Life in the City," it was her first entry in to any quilt show. And that first quilt show just happened to be Road to California 2011!
[caption id="attachment_2845" align="aligncenter" width="497"]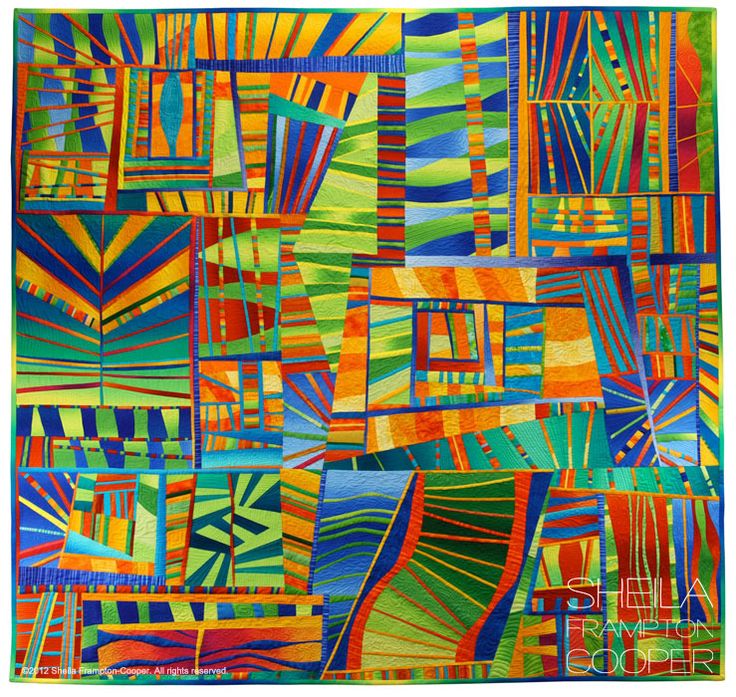 Life in the City by Sheila Frampton Cooper[/caption]
In 2013, Sheila was asked by Carolyn Reese to curate the special exhibit, Perspectives: Fantasy and Reality, which showcased quilts that were inspired by maps, aerial views and topography of actual or imaginary places. Then, in November 2013, Matt Reese asked her to be 2015's featured artist.
Sheila's favorite quilting technique is taking piecing, using her hand dyed fabrics, and pushing the piecing to "the max" using engineering, thought, consideration, and forward thinking to see, "how far I can go to bring my vision to life." 
To prepare for her featured artist exhibit, Sheila began with Life in the City and created 7 new pieces just for the 2015 show.
Sheila was so "grateful to be invited as the featured artist. I enjoyed interacting with the show attendees, and was thrilled to see my work on the cover of the catalog."
What does the future hold for this talented art quilter? Until April 4, 2015, a special exhibit she curated, Expressions in Equality, is on display at the Visions Art Museum: Contemporary Quilts + Textiles, in San Diego, CA. Sheila recently relocated to Pont Royal, Mallemort, France. Her new home in this small village is providing the inspiration for 10-12 new pieces she is currently creating for her next exhibit which will be shown at the European Patchwork Meeting being held September 16-19, 2015. 
]]>